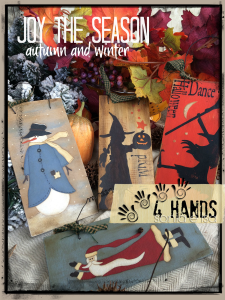 Eccolo pronto il Cartamodello in Italiano "Joy the season – Autumn and Winter" di 4Hands sono 4 Tags per l'albero di Natale ma anche da regalare con un dolcetto o scherzetto.
Due progetti invernali molto Simply, in stile Primitive dipinti da Sonia con la sua ricetta speciale per l'anticatura e due Tags autunnali per i progetti dipinti da me, con la spiegazione per il trasferimento di immagine e l'uso della pasta a rilievo.
presto anche nella versione in Inglese in vendita, nel mio Store e anche nel negozio Etsy di Sonia
Se vi incuriosisce e volete provare questo stile potete acquistare qui con il semplice pagamento a download istantaneo.